n our area there is more than 300-year tradition when started weaving of wicker baskets from willow material. Our best-selling range contains classic utility and shopping baskets made of wicker. We offer a wide range of these baskets in various sizes and shapes for different uses.
Wicker baskets can be used as basket for wood, basket for fruit or grass.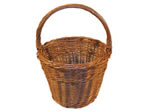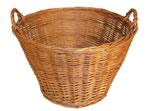 Wicker basket will serve as a replacement of plastic bags for shopping because it is much stronger and smarter.
Wicker basket can be made from boiled or unpeeled willow.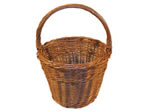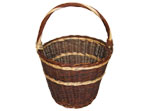 Wicker baskets can also be produced to order, based on the size and needs of the customer. It is also possible to sew fabric inside the basket so that any remaining bark or fragments won´t fall through.
Wicker basket won´t disappoint even small helpers who can use basket for "secret treasures" or collecting mushrooms.
In summer you can use wicker picnic basket that will serve you to carry goodies. These baskets are made without a lid or with a hinged lid.