BREAD BASKETS
Our company has been producing bread baskets for almost 20 yaers. Its production began along with the production of bakery baskets.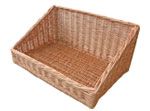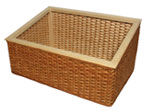 At present the production is mostly order-work. We deal with each customer individually and try to satisfy his needs and vision for equipping the shop or bakery. With each customer we discuss size, shape and the kind of material that is most suitable for customer´s ideas about the overall composition of the interior.
Bread baskets from our production can be seen in many bread shops and supermarkets. Just for hypermarkets we often produce bread baskets in non-standard shapes and sizes.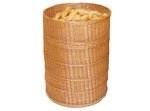 Bread baskets produced in our company are entirely of natural materials such is boiled willow that can be either brown or white. It can be produced also from willow peel, flat-oval rattan core or flat rattan core.
---
Přírodní proutí loupané hnědé
Přírodní proutí loupané bílé

Proutěná šéna

Pedigová šéna
Pedigová páska
Bread baskets are made in following options where the customer can choose according to his needs for the size of the basket.
---
Wooden frame + weaving from willow peel, flat-oval rattan core or flat rattan core (for material selection is determining the requested design of weaving).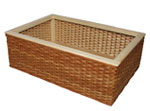 ---
Solid bottom + weaving from full wicker
---
Whole basket from wicker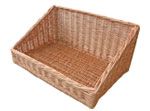 ---
In addition, our production includes also special baskets for atypical bread of different shapes, sizes and combinations. It is about large oval baskets, where the heightened back side of the baskets and special solid frame forms in the basket so-called "false bottom" in order to create the vision that the basket is full.
Other shapes of baskets can be rectangular, high straight and sloped, alternatively two baskets inside each other where it is used the inside basket only. We also produce large quadrant bread baskets with heightened back side of the baskets according to customer´s inquiry.
Our bread baskets are healthy safe, proofed by the certificate issued by ITC Zlin (Institute for certification and measurement), which entitles us to export our bread baskets to other countries. This certificate is valid for three years, resp.every three years is the certificate renewed.
---